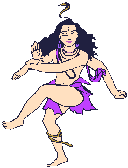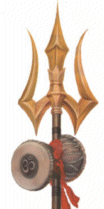 SHIVA CHALISA
Jai Ganesh Girija Suvan
Mangal Mul Sujan
Kahat Ayodhya Das Tum
Dev Abhaya Varadan


Glory to Lord Ganesh, the Divine Son of Goddess Girija, the cause of all auspiciousness and intelligence. Ayodha Dass (the composer of these verses) humbly requests that every one be blessed with the boon of being fearless.


Jai Girija Pati Dinadayala
Sada Karat Santan Pratipala
Bhala Chandrama Sohat Nike
Kanan Kundal Nagaphani Ke
O Glorious Lord, consort of Parvati You are most merciful . You always bless the poor and pious devotees. Your beautiful form is adorned with the moon on Your forehead and on your ears are earrings of snakes' hood
Anga Gaur Shira Ganga Bahaye
Mundamala Tan Chhara Lagaye
Vastra Khala Baghambar Sohain
Chhavi Ko Dekha Naga Muni Mohain
The holy Ganges flows from your matted hair. The saints and sages are attracted by Your splendid appearance. Around Your neck is a garland of skulls. White ash beautifies Your Divine form and clothing of lion's skin adorns Your body.
Maina Matu Ki Havai Dulari
Vama Anga Sohat Chhavi Nyari
Kara Trishul Sohat Chhavi Bhari
Karat Sada Shatrun Chhayakari
O Lord, the beloved daughter of Maina on Your left adds to Your splendid appearance. O Wearer of the lion's skin, the trishul in Your hand destroys all enemies.


Nandi Ganesh Sohain Tahan Kaise
Sagar Madhya Kamal Hain Jaise
Kartik Shyam Aur Ganara-U
Ya Chhavi Ko Kahi Jata Na Ka-U
Nandi and Shri Ganesh along with Lord Shiva appear as beautiful as two lotuses in the middle of an ocean.Poets and philosophers cannot describe the wonderful appearance of Lord Kartikeya and the dark complexioned Ganas (attendants
Devan Jabahi Jaya Pukara
Tabahi Dukha Prabhu Apa Nivara
Kiya Upadrav Tarak Bhari
Devan Sab Mili Tumahi Juhari


Lord, whenever the Deities humbly sought Your assistance, You kindly and graciously uprooted all their problems. You blessed the Deities with Your generous help when the demon Tarak outraged them and You destroyed him
Turata Shadanana Apa Pathayau
Lava-Ni-Mesh Mahan Mari Girayau
Apa Jalandhara Asura Sanhara
Suyash Tumhara Vidit Sansara


O Lord, You sent Shadanan without delay and thus destroyed the evil ones Lava and Nimesh. You also destroyed the demon Jalandhara. Your renown is